Explore Best Case
Workflow Solutions
Complimentary Training
Maximize your software investment with Best Case training resources. Discover the latest enhancements, best practices and shortcuts.
Instructional Guides
---
Webinars
---
Web Tutorials
---
Online Calculators
Meet Jeff - Best Case Training Specialist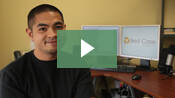 Need additional help?
800.492.8037 (Option 2)
Monday-Friday
8:00am - 5:30pm (CT)
Send a message to help@bestcase.com for free technical support. Be sure to include your name and law firm name. Technical support is free while you are covered by the annual maintenance plan.